Jaffrey Property Management, LLC
Jaffrey Property Management, LLC was formed as a division of Tieger Realty Co., Inc. in 2004. We rent and/or manage residential property as well as commercial and industrial properties. We can and will customize our services to your needs and be glad to help with rental questions. For commercial properties, please contact Marc Tieger at 603-532-8765. For residential management questions, please contact Karen Baird at 603-562-5362. For residential apartment showings, please contact Larry Alvarez at 603-532-8765.
Three Bedroom Apartment – 10 Turnpike Road, Jaffrey
This apartment has been rented as of 5-9-18. Please check our website often for available rental units.
$1025.00 includes heat  3 Beds | 1 Baths | 5 Rooms |Jaffrey For Rent / Lease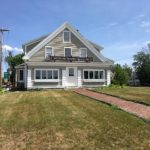 Three bedrooms, one bath apartment on entire 2nd floor, modern eat-in kitchen, full bath, on-site trash removal. HEAT INCLUDED.  NO PETS and NO SMOKING.  Call Larry at 603-532-8765.