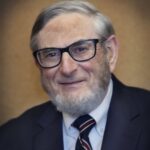 Marc Tieger, Co-founder and President of Tieger Realty Co., Inc., and his late wife Judy, opened their business in West Rindge in 1972, moving to Jaffrey the following year. Since that time Marc has been instrumental in all phases of real estate in Jaffrey and surrounding towns.
He assisted with the creation of Gilmore Court Elderly Housing, Partridge Point, Fox Run, Waterway Ridge, and Tall Timbers. More recently he was involved with Coburn Woods, an award winning single family detached condominium community.
Marc is a Charter Member of the Contoocook Valley Board of Realtors, Founding President of the Jaffrey Chamber of Commerce, Founding Chair of Shelter From the Storm, and was selected as REALTOR of the Year in 1977, 1985, and 2005. He remains active in many other civic endeavors, and is Moderator of the Town of Jaffrey. Marc has 5 children and 8 grand-children, most of whom reside in the area, is happily married to Sharon Donaway Tieger, and considers himself blessed to be living and working in the Monadnock Region of Southwestern New Hampshire.
Agent: Marc P. Tieger
Broker-Owner
Main Phone: 603-532-8765
Fax: 603-532-4519
Email: info@tiegerrealty.com
Website:https://www.tiegerrealty.com
View Marc's Listings
View the properties Marc is currently representing.